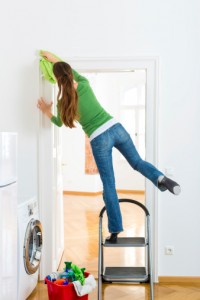 Very few people like to clean. Most find cleaning to be a boring chore and many will put it off for as long as they are able to. When living in an apartment, especially by yourself, it can be hard to find the desire or will to spend a day cleaning. If you have ever procrastinated on cleaning your Thatcher AZ apartment, you know that it can go downhill quickly, making the cleaning process even more involved and stressful. Sometimes, if an apartment has not been cleaned in a while, it can take an entire weekend to clean. If this sounds like you, these tips below will help you find some strategies to clean more regularly and in smaller bursts so that you do not end up with one big cleaning project during your precious weekend time.
Keep a magic erasing sponge and mildew spray in the shower- Most people know that the shower can get grimy pretty quickly. Mildew and soap scum can build up, causing an unsightly film on the inside of a shower. It is likely, however, that you do not notice this until you are taking a shower, and at that point the last thing you want to do is scrub it. Instead, keep a sponge and a mildew spray in the shower where you can see it. The eraser sponge needs no product, but seeing it will remind you to do a quick wipe around the tub. With virtually no pressure, the sponge will loosen the mildew and wash it right down the drain. As for the mildew spray, spray it after you turn of the shower and let it sit. By your next shower, you can simply rinse it away and you will be left with a sparkling, clean shower.
Vacuum one room a day- Vacuuming can be a real chore and can sometimes make you work up quite a sweat. Instead of worrying about vacuuming an entire house in one afternoon, focus on one room in your college apartment. If you spill a few crumbs in the living room, vacuum it up along with the rest of the room. Then put the vacuum away. This means less work in a day, but still keeps things clean.
Keep a sponge in the sink- Keep a good sponge in the sink and use it to wipe down the empty sink after you finish doing dishes. Even the appearance of a clean and sparkly sink will make the kitchen feel much neater.
Invest in cleaning wipes- Cleaning wipes are multipurpose and can be used just about anywhere. This is great because if you keep them handy, it is easy to grab one out of the tube and use it whenever you see a spill, dust or any kind of general dirt and grime. Cleaning wipes are also great for getting fingerprints off of doors and light switches.
By following a few of these clean-as-you-go tips, you will be able to make your Safford apartment cleaning routine a little bit easier and more sustainable.